Dr Nishan Dixit is the founder and principal dentist of Blue Court Dental. Patients enjoy his relaxed, friendly and gentle approach while experiencing his meticulous attention to detail. He has a special interest in providing smile makeovers, natural-looking white fillings and cosmetic braces, but also provides a range of treatments from preventative and general dental care to complex dental rehabilitation.

Latest posts by Dr Nishan Dixit (see all)
One of the great things about being a dentist in Harrow is that we get to meet the local people on a regular basis, and these lovely people very often leave reviews for us either on the website or in person at the practice.
We've been asked by a few patients recently if we can put all of these reviews into one place and so here we are with a blog post.
Patient traumatised by dentists in the past
This patient was particularly nervous and was worried about some bridges that need to be made, after the treatment this was the review that this patient wrote for us.
After searching for years for that Dentist that you have a great rapport with and that you can trust, we came across Dr. Nishan Dixit. We have been with him now for over 8 years and couldn't be more satisfied. Not only is the quality of treatment we receive there great, but the friendly staff are more like an extended family making you feel comfortable at all times and —always providing a "reminder" call and doing their best to accommodate our busy schedules.
A review of our dentists by a patient who had immediate composite dental veneers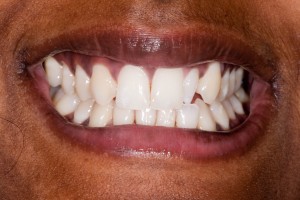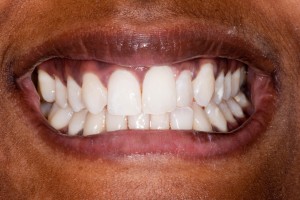 This lady had what is known as 'Peg laterals' this is where the two teeth either side of the front teeth are very small and underdeveloped. We made some instant composite dental veneers to fit precisely over her natural teeth to create a final result that she was pleased with. Here is the review that she wrote for us:
A treatment that definitely exceeded expectations.  Very happy with the results – Thankyou.
Replacing old dental crowns
We are very lucky that many of our patients stay with us for many years. This lady had some old dental crowns which she wanted remade as they had black lines around them – that classic look that so many people hate. After this treatment she wrote this review for our dentists:
 I have been with this surgery for many years and have always had " first class"  treatment from Dr Dixit.  The staff are very friendly and professional. – SR
A dental review after teeth whitening
Teeth whitening is becoming more and more popular, consequently we have many patients who have been through this amazing and life changing treatment and left a review for us-is one of them:
Last day of my whitening teeth treatment.  The result is amazing.  Thank you so much.  This is such a great team and I just enjoy coming here.  Never thought I would enjoy going to the dentist before! Thank you again. – EL
After closing gaps between teeth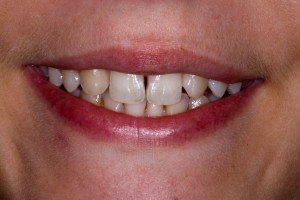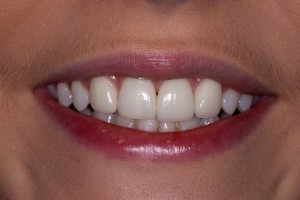 As you can see in the before and after photographs of the dental veneers that we may for this patient that the spaces between her teeth have been completely closed. She is also very anxious and nervous of coming to the dentist and was so happy with a treatment that she wrote this review for us:
I am normally terrified of coming to the dentist for any treatment but since having my consultation, I felt at ease and have found all my treatments very relaxing, and now have an amazing smile to be proud of !

Dr Dixit and all the staff at the surgery are so kind and professional.

Many Thanks

RL
A review of our after-care support
As you will know after scare support is extremely important for any dental practice, this patient was so pleased with the support that we gave that they wrote this review for us:
I've been coming to the practice for the last few months for treatment.  The staff at the practice have been excellent, from the quality of the treatment to the after care support.

I would encourage anyone to join the practice.  Thanks Blue Court Dental.

DK
Orthodontic treatment reviews
Adults wanting to straighten their teeth are a fairly new treatment group for dentistry. At our dental practice in Harrow we are pleased to work with 3 great systems for straightening teeth, Clear Braces, Six Month Smiles and Inman Aligner. The Inman aligner is able to straighten teeth very rapidly and many patients tolerate it extremely well and indeed find it comfortable to wear.
After about 13 weeks of treatment this patient wrote this wonderful review for our dental practice.
I was very impressed at how fast the Inman Aligner worked. It was very comfortable to wear and very discreet.  Taking it in and out was very easy .  Dr Dixit explained the treatment to me very clearly and I was very happy with my teeth. When I smile now, my tooth does not hit my lip.
Not all of our patients live in Harrow
We are fortunate that a few of our patients travel a great distance to come and see us. This really does allow us to know that treatment and dental care we offer in our practice is second to none. After travelling some distance to CS this patient wrote this review.
We drive over an hour to get here which says it all.  Always have great confidence and are treated really well.
Of course the best reviews for any dentist come when our lovely patients right their reviews of live on the website. If you like to leave a review for our dental practice in Harrow please do so in the following box – thank you.