If you have missing teeth then there are a variety of reasons why you might want to replace them. Indeed, some people may not want to replace missing teeth and just leave the gaps so we are going to start this short article by explaining why you should consider replacing missing teeth. If you understand the reasons why replacing missing teeth is important (other than the obvious cosmetic reasons) then you may also be better placed to make the best decision about which option is right for you.
Preventing adjacent teeth from drifting.
Your teeth are all in fine balance with one another, each tooth gently supports its neighbour which prevents it drifting. If you have a gap then that support is lost and the teeth either side of that gap can actually begin to move and drift into the space.
Preventing opposing teeth from over erupting.
The same applies with teeth on the opposing jaw. Having your teeth meet together on a regular basis during the day helps to keep them in the right place. If you have a tooth missing then it's opposing tooth will have a tendency to over erupt and drift down into the gap.
The image to the right shows how both of these processes work. The black arrows show the drifting of the adjacent teeth and the opposing teeth, but why does this matter?
Drifting of teeth like this causes a few problems:
Cosmetic. Take a look at the gum line on the top jaw around where the tooth has moved in the image. The natural contour (known as gum architecture) of the gum line has changed which can cause aesthetic issues.
Bite problems. Your teeth are in fine balance with one another as you chew and eat. As you slide your jaw to the left and right the cusps of your teeth work in unison with one another. If you're teeth move out of this fine balance the muscles of your jaw may have a tendency to overwork in order to compensate, by moving your jaw in a slightly different trajectory in order to eat.
Problems restoring the teeth later on. As the teeth move in the direction of the arrows the gap can become smaller and smaller. The adjacent teeth can drift and end up at such an angle that restoring them with either crowns or bridges at a later date can become difficult. Whilst this isn't an immediate problem it can cause problems later on if you subsequently decide to replace the missing tooth with either a dental implant or bridge.
Your options to replace a missing tooth.
The replacing missing tooth is important as it prevents the problems above from occurring, but what is your best option? Let's look at them in turn, your primary options are as follows:
Dental Bridges.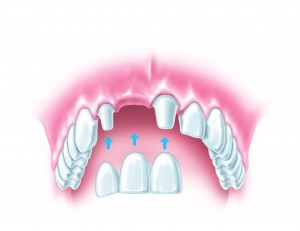 Dental bridges have been around for many years now and are an excellent solution to replace missing teeth. They have an excellent lifespan, look fantastic and with modern techniques, should be indistinguishable from a natural teeth. There are however two problems with dental bridges.
They often require reduction of the teeth either side of the gap. If these are healthy then reduction of healthy tooth tissue is required. Many dentists dislike doing this as they preferred to keep your natural teeth for as long as possible.
The bone around where your tooth has been lost will continue to resorb over the years. Sometimes, this bone loss means that a gap forms underneath the false tooth of the breach. This can create a problem with speech, cosmetics and may become a food trap. In many instances remaking the breach to extend down to this new gum line is required, This can be an expensive option.
Dentures.
Dentures can also be used as a highly cost-effective way to replace missing teeth. They are often the cheapest option which makes them attractive to many people. Modern techniques can also make dentures look highly aesthetic and like dental bridges, be almost indistinguishable from your natural teeth.
The biggest disadvantage with dentures is that people often don't like to have to remove them to clean them, they can affect the surrounding gum and cause ulcers if they don't fit particularly well. Dentures need to be regularly maintained and so frequent visits to your dentist are required in order to ensure that your dentist days in excellent condition.
Dental implants.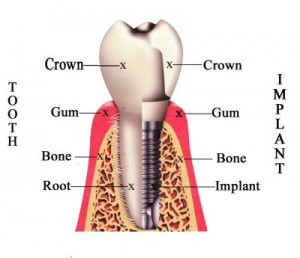 A dental implant is essentially a replacement for your natural tooth root. Once the dental implant is placed into your jaw a crown can be placed on top. These can look highly natural and be completely indistinguishable from your natural tooth. Whilst dental implants tend to have the highest initial outlay of all of the options to replace missing teeth they can be the best value solution over their lifetime.
Because a dental implant is actually placed into the bone the bone is supported. This means the bone loss which occurs with dentures and dental bridges does not happen, with the dental bridge or denture, when this bone loss occurs you may need to have the bridge or denture replaced. This can add to the cost of the overall tooth replacement. With a dental implant this doesn't happen.
Many dental practices also offer interest-free finance for treatments such as dental implants allowing you to spread the cost over an extended period, this also makes the treatment much more affordable.
Further resources for dental implants.
The British Academy of Cosmetic Dentistry have a website with further information about dental implants and the likely costs. www.bacd.com
The Association of Dental Implants (ADI) Have a large resource library for patients, it includes answers to the most common questions and can be accessed here www.adi.org.uk
=================
Blue Court Dental Centre is a local dentist in the heart of Harrow, Middlesex offering a range of teeth replacement options including dentures, dental bridges and dental implants. They offer a free consultation for dental implants and have a free guide for immediate download which offers information and advice about replacing missing teeth.

Dr Nishan Dixit is the founder and principal dentist of Blue Court Dental. Patients enjoy his relaxed, friendly and gentle approach while experiencing his meticulous attention to detail. He has a special interest in providing smile makeovers, natural-looking white fillings and cosmetic braces, but also provides a range of treatments from preventative and general dental care to complex dental rehabilitation.

Latest posts by Dr Nishan Dixit (see all)