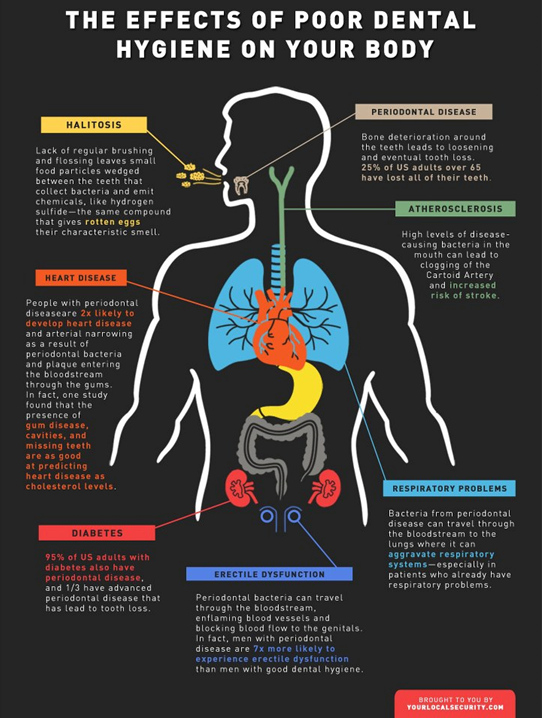 Poor oral hygiene can affect your whole body, from your heart to your lungs to even your genitals! Take a look at the diagram above and then read on to find out what the likely results of poor hygiene are on your body. Perhaps you should think now about looking after your teeth and gums?
Halitosis
Lack of regular brushing and flossing leaves small food particles wedged between the teeth that collect bacteria and emit chemicals like hydrogen sulphide, the same compound that gives rotten eggs at their characteristic smell.
Periodontal disease.
Bone deterioration around the teeth leads to loosening and eventual tooth loss. 25% of adults in America over the age of 65 have lost all of their teeth!
Atherosclerosis.
High levels of disease-causing bacteria in the mouth can lead to clogging of the carotid artery and increased risk of stroke.
Heart disease.
People with periodontal disease are twice as likely to develop heart disease and arterial narrowing as a result of periodontal bacteria and plaque entering the bloodstream through the gums. In fact, one study found that the presence of gum disease, cavities and missing teeth are as good at predicting heart disease as cholesterol levels.
Respiratory problems.
Bacteria from periodontal disease can travel through the bloodstream to the lungs where it can aggravate respiratory systems, especially in patients who already have respiratory problems.
Diabetes.
95% of adults in America with diabetes also have periodontal disease and one third have advanced periodontal disease that has led to tooth loss.
Erectile dysfunction (yes, we thought that might get your attention).
Periodontal bacteria can travel through the bloodstream inflaming blood vessels and blocking blood flow to the genitals. In fact men with periodontal disease are seven times more likely to experience erectile dysfunction than men with good dental hygiene.
So there you have it, seven good reasons to look after your dental health… And one extremely good reason for men!

Dr Nishan Dixit is the founder and principal dentist of Blue Court Dental. Patients enjoy his relaxed, friendly and gentle approach while experiencing his meticulous attention to detail. He has a special interest in providing smile makeovers, natural-looking white fillings and cosmetic braces, but also provides a range of treatments from preventative and general dental care to complex dental rehabilitation.

Latest posts by Dr Nishan Dixit (see all)