We get asked this question all the time at our dental practice in Harrow, Middlesex, people often wonder if a dental hygienist is just an excuse to get a little more money out of people… Some people wonder why the dentist can't do the same job as the hygienist and have everything done in one appointment.
In this blog post we explain why the hygienist is so important and crucially, why the hygienist can save you money by helping you stay dentally fit and healthy.
What is dental plaque, tartar and calculus?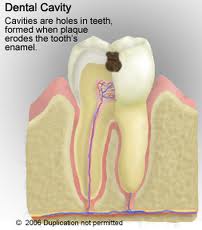 Dental plaque is a soft, sticky film that builds up on your teeth every day. This film contains millions of bacteria and as these bacteria feed on the sugar in your diet they excrete acid and it is this acid which can lead to tooth decay and gum disease. Tarter or calculus is when this soft, sticky film hardens, typically this is in between your teeth in difficult to reach areas where it is not removed each day. When it hardens into calculus this is where bacteria can lurk and excrete more acid directly onto your teeth.
If this calculus remains in place for too long the gums can become inflamed, read and puffy. The acid can also eat away the hard outer enamel layer of your teeth, if this progresses then the teeth can begin to rot from inside!
What is the difference between a dentist and a dental hygienist?
A dental hygienist is uniquely trained to look after your dental health only. They have in-depth training to understand how and why your teeth and gums can become unhealthy, they are able to spot the early warning signs of gum disease, help you change habits which may be exacerbating the onset of gum disease and work with you to treat any gum disease.
Your dentist on the other hand, as well as doing all this will be treating any decay, helping to restore broken down teeth, replace missing teeth, straighten crooked teeth plus have a deeper understanding of the anatomy around your head, face and neck enabling them to spot the early warning signs of oral cancer as well as biting problems which can lead to headaches and neck pain.
In an allocated appointment time your dentist will be hard pushed to do the role of the hygienist as well, doubling the appointment time to give the dentist time would increase the cost to you, so seeing a hygienist not only ensures you see someone uniquely trained to help you with your dental health but also keeps costs down as the dentist is not doing it themselves.
A typical routine dental health check appointment with your dentist will last around 30 min, a typical routine dental hygiene appointment will also last about 30 min. It is quite usual to have a visit to the dentist and then the hygienist consecutively every six months. Many practices offer dental membership plans to help spread the cost of these appointments over an extended period throughout the year.
What is a scale and polish?
This is the common term used to describe removing calculus (scale) from your teeth and then polishing them to make it more difficult for the calculus to adhere again. A scale and Polish is however an oversimplification of what is actually done. Your hygienist will check the dental health of each individual tooth and surrounding gum area, they will assess your cleaning and diet habits to work out why calculus has built up in particular areas, they will then give you advice on how you can reduce this in future. Once the calculus has been removed the teeth will be polished and cleaned and flossed in between.
How often should you go to the dentist and hygienist?
If you haven't been to the dentist or hygienist for some considerable time you may find that more frequent appointments are required in order to get your teeth and gums to a healthy state. Sometimes a monthly appointment at the hygienist are required for 3-4 months in order to do this. Once your dental health is in a satisfactory condition routine appointments at the dentist and hygienist are then recommended every 6 months.
What tools do dentists and hygienists use to clean teeth?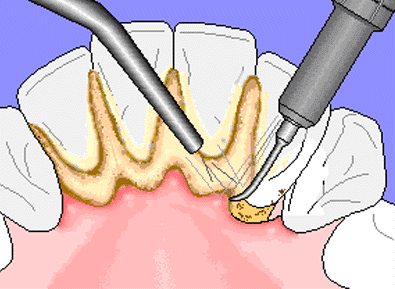 Most dentists invest heavily in technology and equipment to ensure you receive the very best treatment. A clever piece of technology that many dentists use is an ultrasonic scaler. This uses ultrasound waves which are conducted through to the calculus on your teeth at the end of probe connected to an ultrasound device. The high frequency ultrasound dislodges the calculus from your teeth in a comfortable, painless and rapid fashion. Using this device means your hygienist can clean your teeth faster than using a hand-held instrument alone.
As well as the ultrasound device your hygienist will also use various hand tools to clean in the difficult to reach areas in between your teeth. Right at the back of your mouth, in between the last molars can often be very tricky to reach with a toothbrush meaning calculus buildup readily in these areas. Cleaning in these areas and removing the calculus can be quite tricky sometimes, especially if teeth are very crooked.
How to remove calculus from your teeth?
Unfortunately the only way to remove calculus from your teeth safely is to visit your dentist and hygienist. Trying to pick away at home can result in damaging your delicate gums. If you visit your hygienist they can give you oral health advice as to the best way to keep your teeth as clean as possible and prevent the buildup of calculus in the first place.
Visiting the dentist and hygienist is an important thing to do if you wish to keep your mouth (and whole-body) as healthy as possible as well as keeping your overall dental costs as low by being dentally fit.

Dr Nishan Dixit is the founder and principal dentist of Blue Court Dental. Patients enjoy his relaxed, friendly and gentle approach while experiencing his meticulous attention to detail. He has a special interest in providing smile makeovers, natural-looking white fillings and cosmetic braces, but also provides a range of treatments from preventative and general dental care to complex dental rehabilitation.

Latest posts by Dr Nishan Dixit (see all)