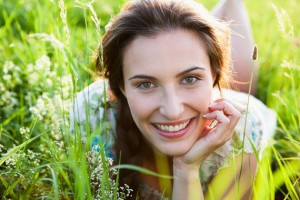 Many people are looking for that brighter, whiter smile but did you know that research (1)  seems to indicate that it's not actually a white smile which people find attractive, rather, it is a yellow smile which people find unattractive.
The researchers found that:
Whitening had no effect beyond that produced by natural colouration. This indicates that these colour induced alterations in ratings of attractiveness are mediated by increased/decreased yellowing rather than whitening per se.
As we get older our teeth yellow with age and whitening them back to their natural colouration is all that is required to achieve the most attractive smile, so what is the best way to whiten your teeth?
The best way to whiten teeth.
Here's a simple list:
Good oral hygiene.
Over-the-counter teeth whitening products.
Home teeth whitening.
Restorative treatments such as immediate veneers, dental veneers dental crowns.
Good oral hygiene.
The first step to enjoying whiter teeth is to maintain good oral hygiene. Firstly this will help keep your natural teeth as white as possible, if plaque (2) is kept at bay then staining is less likely to build up on your teeth. Secondly, before you have any of the other teeth whitening treatments you'll need to ensure that your teeth and gums are in good condition. Most dentists will not offer any form of cosmetic or whitening treatment if you're oral hygiene is not up to scratch!
Over-the-counter teeth whitening products.
There are many products available to buy over-the-counter in your local pharmacy, However, the Daily Mail (3) says:
Experts warn that some products which claim to whiten could actually harm your teeth, gums and even your stomach lining.

While some of these products may work their effectiveness and safety isn't monitored by a dental professional and therefore they come with some risk if you use them at home.
Another trend in teeth whitening is to go to beauty salons or other establishments other than a dental practice. Whilst this may be cheaper than going to a dentist it is also illegal! Teeth whitening falls under the category of "the practice of dentistry", the General Dental Council (4) says:
The practice of dentistry is limited to GDC registrants. It is the Council's view that applying materials and carrying out procedures designed to improve the aesthetic appearance of teeth amounts to the practice of dentistry. So too does the giving of clinical advice about such procedures. Therefore all tooth whitening procedures, including bleach and laser treatment, are seen as the practice of dentistry by the General Dental Council.
It is important to know the teeth whitening products contain an amount of peroxide, this peroxide can be dangerous if not used correctly and it is for this reason that we recommend you only visit a suitably qualified dental professional for your teeth whitening.
Home teeth whitening.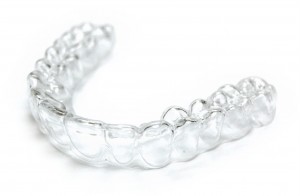 When you have home teeth whitening you will be provided with a custom made and closed fitting bleaching tray, into this tray you will apply the bleaching gel which is held against your teeth.This bleaching tray has some unique features:
It will be extremely close-fitting ensuring that you use the minimum amount of gel with each application, this means the gel goes further and lasts longer.
The tray is customised for you, it can only be used by you.
It will put a very slight amount of pressure around the tooth/gum margin. This is to create a seal in this area to prevent the peroxide gel from touching your sensitive gums.
These design features are extremely important to ensure that the treatment is not only effective but safe too, only a qualified dental professional is able to prescribe one of these trays.
Something to watch out for, the bleaching tray is made from a thermoplastic, this means you will need to keep tray away from hot/warm water as it could distort.
Restorative treatments such as veneers or crowns.
In some extreme cases with very dark teeth conventional teeth whitening is not able to lighten the teeth enough.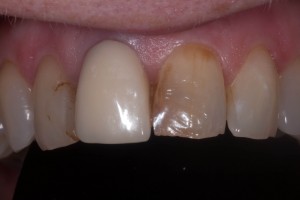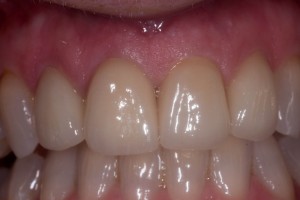 As you can see from the case above these teeth were particularly dark and the patient wanted them particularly liked, there was also another complication, and existing Crown on the front tooth. Dental crowns and veneers cannot be lightened with teeth whitening techniques, so if you have an existing restoration then this will need to be replaced as part of the whitening process.
This lady wanted to improve her smile, have it more natural looking and whiter than it was before so we prepared her teeth for porcelain crowns to achieve an excellent result, what do you think?
>> Read more about this case here
Summary
Many times a combination of treatments can be used to whiten your teeth, you may have a single tooth which is too dark to whiten using the bleaching method, but we may be able to whiten the surrounding teeth and then use a single dental veneer or crown on the very dark tooth to whiten that the same shade.
The cost of teeth whitening treatments will also vary enormously depending on the complexity of your case. To give you an idea of dental fees please visit our fee guide. By far the cheapest way of maintaining unnaturally bright smile is to keep your teeth in excellent dental health. This will keep plaque at bay and ensure that the buildup of any staining on your teeth is kept to a minimum. The next most cost-effective method is to consider teeth bleaching however this is not always suitable for the reasons already stated.
Teeth Whitening References:
"Evidence to Suggest That Teeth Act as Human Ornament Displays Signalling Mate Quality"  Colin A. Hendrie, Gayle Brewer  Published: July 31, 2012DOI: 10.1371/journal.pone.0042178  http://www.plosone.org/article/info%3Adoi%2F10.1371%2Fjournal.pone.0042178 site accessed 18/12/14
Information on Plaque From Wikipedia http://en.wikipedia.org/wiki/Dental_plaque site accessed 18/12/14
The Daily Mail: DIY dazzlers: High Street tooth whiteners put to the test Read more: http://www.dailymail.co.uk/health/article-1282977/DIY-dazzlers-High-Street-tooth-whiteners-test.htm site accessed 18/12/14

General Dental Council : Tooth whitening Q and A's. http://www.gdc-uk.org/dentalprofessionals/standards/pages/tooth-whitening.aspx site accessed 18/12/14
=========
Blue Court Dental Centre is a local dentist in the heart of Harrow, Middlesex. They offer a range of dental treatments including teeth whitening, dental veneers and oral hygiene programs to help keep your teeth looking fresh and bright for life.

Dr Nishan Dixit is the founder and principal dentist of Blue Court Dental. Patients enjoy his relaxed, friendly and gentle approach while experiencing his meticulous attention to detail. He has a special interest in providing smile makeovers, natural-looking white fillings and cosmetic braces, but also provides a range of treatments from preventative and general dental care to complex dental rehabilitation.

Latest posts by Dr Nishan Dixit (see all)