Most people want to have teeth that aren't brown, yellow or badly stained. Teeth whitening is often the first port of call but there are also many things you can do at home, come to that, there are many things you can avoid at home to help you have whiter looking teeth.
We've broken the list down into:
Things you SHOULD do for whiter looking teeth
Things you should NOT do
Things you might want to consider
Things to avoid when looking for whiter teeth
We then finish off our list with one final secret for whiter looking teeth… Read on to find out more.
Things you SHOULD do
In order to have the whitest looking teeth without going for teeth whitening treatments we recommend:
Watching your oral health care routine. If you keep your teeth clean then plaque will not build up, stains adhere more to plaque then they do to tooth enamel so if your teeth are clean then they are more likely to look whiter.
Using an electric toothbrush. It has been shown that using an electric toothbrush means you are more likely to clean your teeth adequately. Many electric toothbrushes have a timer pressure sensor to ensure you don't press too hard and clean for the right amount of time.
Cleaning in between your teeth. By using floss or an incidental brush you will keep your teeth cleaner and prevent the buildup of plaque which can look dark, yellow or discoloured.
Things you should NOT do
As well as taking positive action to do things to keep your teeth looking monitor, there are also things which we recommend you should not do:
Smoking. Smoking dries out your mouth, if the mouth is dry it has less saliva and it is saliva which neutralises the acid from the bacteria. This means that smokers are more likely to have tooth decay which can look dark, brown or black. If you have plaque buildup around your teeth then smoking will also discolour this plaque giving your teeth are very yellow look.
Avoid anything that can stain, think of your teeth like a white T-shirt, anything that can stain the T-shirt can stain your teeth! That doesn't mean stopping eating food which is healthy for you, it just means think about how much you eat and cleaning your teeth afterwards.
Things you might want to consider
In addition to things you definitely should or should not do there are a few extra things which you may want to consider in your pursuit of whiter teeth.
Eating Strawberries. Now we don't mean eating tons of strawberries every day, however strawberries contain malic acid, in small doses it has been shown that malic acid can whiten teeth… But don't go overboard as it is also an acid and can actually damaged teeth if used too much.
Eating crispy or firm food can clean your teeth naturally as you go. Eat them towards the end of the meal as they will then help to naturally clean your teeth with their rough and crunchy edges, think about things like carrots or celery.
Chewing gum after eating stimulates production of saliva which neutralises and cleans your teeth by washing away debris. Always use a sugarfree gum.
Things to avoid when looking for whiter teeth
Coconut oil pulling. This seems to be a modern trend but there is no evidence to show that coconut oil whitens teeth in any way at all. In fact, some toothpastes are now including coconut oil but may not include enough fluoride. In this instance, this can lead to tooth decay due to a lack of fluoride. The same also applies to activated charcoal.
Beauty salon whitening. people often believe that you can go to a beauty salon for teeth whitening, however teeth whitening is not legal for anyone other than a dentist (or a dental hygienist or dental therapist working to prescription of the dentist) to carry out tooth whitening.
Using hydrogen peroxide/bleach. Whilst teeth whitening gel at a dental practice utilises hydrogen peroxide it does so in an extremely controlled and limited way. Using home bleach or any other form of non-dental hydrogen peroxide without the strict supervision or control of the dentist can be extremely dangerous as the soft tissue/gums can burn easily.
A final secret for whiter looking teeth
So here is our final secret for whiter looking teeth… Wear red lipstick! It's a tip used by many celebrity and make up artist as the red lipstick forms a contrasting frame around your teeth making them look whiter.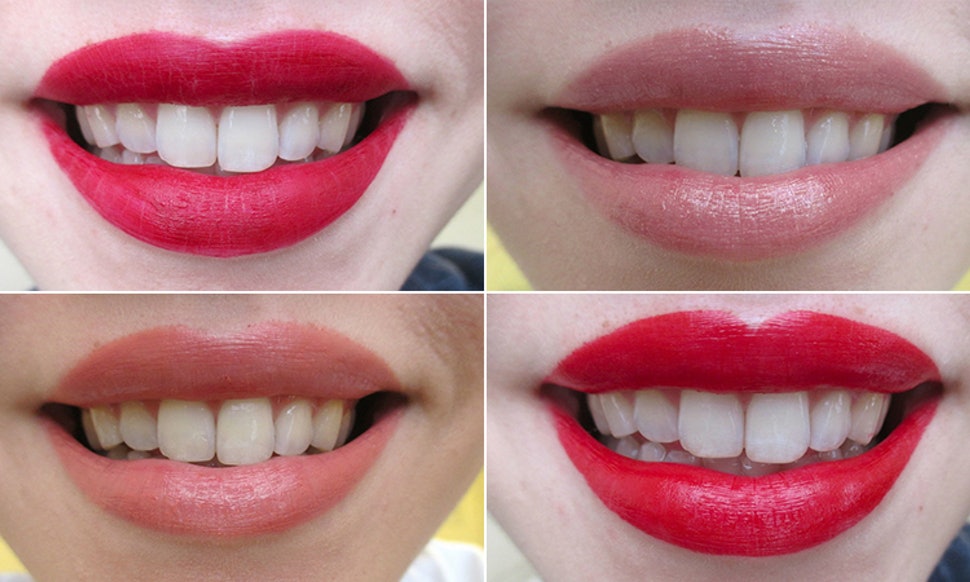 Image credit: Miki Hayes 2.19.15  https://www.bustle.com

Dr Nishan Dixit is the founder and principal dentist of Blue Court Dental. Patients enjoy his relaxed, friendly and gentle approach while experiencing his meticulous attention to detail. He has a special interest in providing smile makeovers, natural-looking white fillings and cosmetic braces, but also provides a range of treatments from preventative and general dental care to complex dental rehabilitation.

Latest posts by Dr Nishan Dixit (see all)