We've seen many patients asking for the lightest teeth possible when they come to our practice in Harrow for teeth whitening, so we thought we write a blog post explaining more about the tooth shading system that we use, and how light is a B1  shade compared to an A3?
Many teeth whitening products on the market suggest that they can lighten teeth by 20 or 30 shades, however it all depends how you wish to grade those shades and how close together one decides to make them. Many times, all these companies do is add extra shades as half shades thereby increasing the number of shades they can lighten your teeth!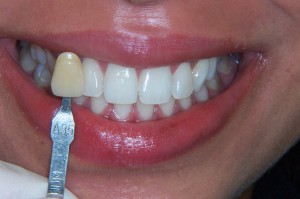 The professional way to monitor teeth whitening and how light your teeth are is by using an industry standard guide, rather than by making one up.
The normal tooth  shade  guide has four main categories – A, B, C, D. These range from yellowish, reddish tooth shades, through to greyer teeth.
Then within these categories there are up to 4 lightness shades – 1, 2, 3 & 4 with number 1 being the lightest.
There are a few variances of this, however to keep things simple this is the basic principle of how we measure tooth colour.
The average shade for a tooth is A3, this is considered a normal colour and around 70% of the population have natural teeth which are within this range.
A B1 shade is considerably lighter than A3 and is generally considered the lightest naturally occurring shade. However, with the advent of tooth whitening patient driven shades are now getting considerably lighter than this, and are often called Hollywood white shades. About 10 years ago if you asked the dentist to whiten your teeth to a B1 shade then this would have been considered very bright, however with more and more celebrities having their teeth whitening or even having veneers to an ultra-white colour this has driven popular public conception to consider that B1 is no longer white enough.
Our Harrow-based cosmetic dental practice is happy to discuss with you your current tooth colour shade and how light your teeth could possibly go with teeth whitening. We can look at a B1 shade compared to your current shade to see if this is too light for your skin tone and overall complexion. The practice in Harrow is easy to find and there is normally plenty of parking on the street outside.

Dr Nishan Dixit is the founder and principal dentist of Blue Court Dental. Patients enjoy his relaxed, friendly and gentle approach while experiencing his meticulous attention to detail. He has a special interest in providing smile makeovers, natural-looking white fillings and cosmetic braces, but also provides a range of treatments from preventative and general dental care to complex dental rehabilitation.

Latest posts by Dr Nishan Dixit (see all)