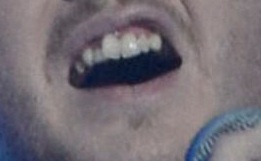 As the X-Factor competition comes to a close once more the interest in each of the contestants rises, and with that comes the pressure for them to look like a superstar.
And this year James Arthur is no different!
When Cheryl Cole one the talent show a few years ago when she joined girls aloud she also had dentistry to enhance her smile, and many people are aware that Tulisa, one of the judges on X factor also had cosmetic dentistry.
Of course it is down to James Arthur's dentist to decide exactly what type of treatment is suitable for him, and it is not for us to make that decision however we can make some suggestions based on the photographs.
The purpose of doing this is so that you can see the similarities between your own situation and James' situation so that you can decide which type of treatment might be right for you.
Overlapping teeth.
As you can see James is teeth overlap quite considerably, especially the front tooth (known as the central) to the left of the photograph. This has the effect of making the next tooth along (known as the lateral) to look darker. This effect is simply caused by the shadowing of the rotated central. When this happens it is sometimes possible to use orthodontics to straighten the teeth out, and the systems commonly used are as follows.
Clear Braces.
These are almost invisible braces and are typically worn for around 12 months. Every two weeks or so you will wear a new clear aligner to align your teeth to the new position. You will be prescribed a series of aligners, each of which move your teeth a small amount towards their final position. From what we know this was the type of brace that Cheryl Cole had to move her teeth.
Inman aligner.
The Inman aligner is a new form of rapid orthodontics. The appliance is removable and works on the principle of pushing and pulling your teeth at the same time in the direction required. Sometimes the final result can be achieved in around 12 weeks, which is much faster than any of the other orthodontic systems around.
More information on the Inman aligner
Six month smiles.
This is one of the most modern systems and involves the use of fixed ceramic brackets. Because Six Month Smiles is a fixed orthodontic the results can often be achieved faster than with removable orthodontics, typically within six months. This type of orthodontic brace has also been worn by many celebrities including Tom Cruise and Faith Hill.
More information on six month smiles
Instant veneers.
Moving crooked teeth to the new position is generally the preferred option as you maintain your natural teeth. In some instances this may not be possible, or indeed the client may require a more rapid alternative. If you look at James Arthurs lateral on the left-hand side of the photograph (his right hand side) this tooth is set back. It might be possible in this instance to add some instant veneer bonding material to the lateral to to build it out somewhat.
The disadvantage with this technique is that there will always be this bonding material on the outside of your tooth, this does have a tendency overtime to discolour so regular appointments at the dentist will be required to ensure the tooth stays nice and white.
Ceramic dental veneers.
These are used in exactly the same way as instant veneers, however the results are not as instant (typically taking three weeks) however the advantage is that ceramic veneers will not stain the same way that instant veneers may. The this advantage with ceramic veneers is the slight possibility that they could chip, so you need to be aware if you are wearing veneers that chipping is a possibility – although highly unlikely with modern materials.
More information on ceramic dental veneers.
As James Arthur increases in popularity and his photographs are used more around the Internet it will be interesting to see which type of treatment he opts for. Which ever treatment James decides is best Blue Court Dental Centre in Harrow, Middlesex sincerely wish him all the very best with his new smile and new career.

Dr Nishan Dixit is the founder and principal dentist of Blue Court Dental. Patients enjoy his relaxed, friendly and gentle approach while experiencing his meticulous attention to detail. He has a special interest in providing smile makeovers, natural-looking white fillings and cosmetic braces, but also provides a range of treatments from preventative and general dental care to complex dental rehabilitation.

Latest posts by Dr Nishan Dixit (see all)