Invisalign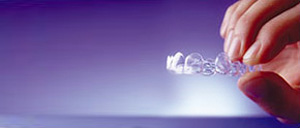 There is a solution to having straighter teeth without having to wear metal braces. Known as invisible orthodontics, this type of treatment offers you the choice of wearing a clear and sometimes removable appliance while straightening and aligning your teeth.
This is often a favourable option for adults who have professional careers and don't feel comfortable wearing unsightly 'train track' braces for months on end. The technology behind invisible orthodontics is highly advanced and often gives patients a much shorter treatment time, depending on their individual cases.
Benefits of this type of treatment include having teeth straightened in a generally shortened period of time, straighter teeth and alignment of your top and bottom jaws. You can also enjoy the flexibility of your braces being hidden from an untrained eye, making you feel less self-conscious when socialising or speaking in public. With removable devices you can also take them out to eat or for special occasions, so they fit around your lifestyle.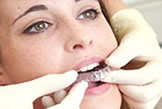 It is important to remember that straighter teeth are healthier teeth. When your bite is properly aligned and your teeth are straightened, there are fewer gaps and areas where food can get trapped and plaque can build up on the teeth, causing decay. In that sense, invisible orthodontics is a long-term investment in your oral health.



---

Free Information Pack

"Your Complete Guide to a Confident Smile with Straighter Teeth"
A 17 page report full of the most useful information, ideal if you're thinking about having braces
The costs and lowest price alternatives.
Your options and choices for treatment.
Are you suitable for treatment?
How does Invisalign compare to the other brace systems?
How long does treatment take?
Plus lots more…

---
How long does Invisalign take?

Standard Invisalign takes between 1 and 2 years to complete. For particularly simple cases we are also able to offer Invisalign Go, this uses fewer aligners and can therefore be completed faster, typically in only six months.
Each aligner with Invisalign is worn for approximately 2 weeks, standard Invisalign uses in excess of 25 aligners where-as Invisalign Go typically uses 10-15 aligners on average.
Invisalign vs braces
Invisalign has a number of advantages over standard orthodontic braces:
Invisalign uses a series of clear and removable aligners to move your teeth whereas conventional braces utilise highly visible metal brackets and wires.
Invisalign is clear and almost invisibile, conventional braces are much more noticeable.
Invisalign can be removed during treatment making it extremely comfortable, conventional braces are fixed and cannot be removed for cleaning.
Invisalign is smooth, this makes it a very gentle treatment which does not irritate your cheeks, conventional braces can often rub on the cheeks causing painful ulcers.
Invisalign can be intricately planned using a ClinCheck (c), this allows you to see your finished result in a digital treatment plan. Conventional braces are not able to offer you an idea of how you will look once treatment is completed.
The flipside to any of these advantages is that conventional orthodontic braces using brackets and wires are often able to treat more complex dental situations involving the back teeth. Invisalign is more suited to cosmetic dentistry moving the front (anterior) teeth only.

How to straighten teeth
Contrary to popular opinion your teeth are not rigidly fixed into your jaw, they have a movable ligament or cushioning around them giving them a slight amount of movement. If continual pressure is put on a tooth then it will move in the direction of this pressure. If the pressure is applied over a number of weeks then the tooth will gently move in this direction. This is the basic principle of how orthodontics works, applying pressure to the tooth in a carefully controlled way can move that tooth in the direction required.
Conventional orthodontics using brackets and wires applies this pressure by bonding brackets to your tooth and then using force applied with the wire. Invisalign puts pressure on the tooth to move it using a clear aligner. This aligner sits over the top of your teeth and gently applies pressure in exactly the correct location to tip, twist, rotate and move specific teeth in any given direction.
Because Invisalign offers a digital representation of how you will look afterwards (ClinCheck) the whole process is carefully digitally controlled from start to finish ensuring you have a predictable outcome.

How much are braces
Orthodontic braces are very much an investment in yourself and any cost needs to be considered over the long-term use of your teeth and smile after the braces have been taken off. Your teeth are used 24-hours a day to eat, smile and even whilst you sleep. Given this extensive use of this highly valuable asset it is important to ensure you are happy with the way they look, feel and function.
Orthodontic braces start at around £2750 (April 2017, please see our fees page for more details), we offer finance options and staged payments so this payment may not all be due in one go.
How to get started with Invisalign
The best way to begin is to request an initial consultation. At that initial consultation we can assess your needs, have a chat about what you want Invisalign to achieve and come up with a full treatment plan. This treatment plan will include a review of your overall dental health and give you an idea of the number of aligners and how long the treatment will take. The treatment plan will also include a full cost so that you have all of the information available to you before you go ahead, ensuring you are in full control of the process at all times.