Before starting any form of orthodontics, or indeed any treatment within dentistry at a new dentist, we recommend that you review some of the treatments and cases undertaken by your chosen dentist. To help you undertake this review we've written this blog post which takes a look at a range of orthodontic options so that you can best make your own decision about which one is right for you.
Of course it is not possible to make a diagnosis online, so in every case you will need to visit a reputable dentist who is suitably trained in adult orthodontics who can then make the best decision for you, dependent upon your tooth position.
A few years ago braces were only prescribed for children, however with modern advances in technology adult braces have become more popular.
Train track braces may be on their way out for adults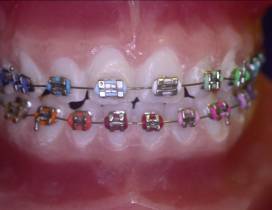 As more and more adults decide to have braces, it is becoming increasingly important for dentists to recognise the fact that many adults do not want to wear train track braces which are obvious and stand out. Due to this there have been a range of treatments for adults which overcome this problem by using either clear braces or tooth coloured braces.
 Tooth coloured braces for adults
One of the big advantages of fixed orthodontics, such as you see with the metal train track braces, is their overall ability to move teeth faster than other forms of orthodontics. When this general principle is combined with a brand new design of orthodontic bracket, a whole new system is born – and that system is Six Month Smiles.
By combining a unique tooth coloured bracket with conventional fixed orthodontics it is now possible to provide braces for adults in the local Harrow area. Notice the before photograph below, this patient did not like the gap between had to front teeth, and so by using tooth coloured braces it was possible to realign her smile and close up this space.
The problem with having gaps between teeth is that the gaps can often look black, this is a common problem which many patients mentioned to us. Six Month Smiles is a great way to move teeth and overcome this particular dental problem with misaligned or crooked teeth.

Clear or Invisible Adult Braces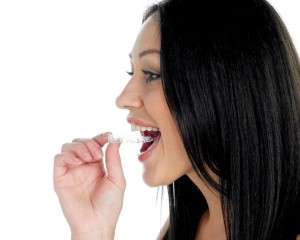 Another way to have adult orthodontics or braces is to go for one of the almost invisible options. Rather than being fixed to the teeth permanently, this type of braces is removable. It works by applying pressure to the teeth in the direction that we want to move it, once the tooth has moved into the new position the clear brace becomes loose and does not work any more.
We then simply supply you with a new brace which continues to put pressure on to the tooth. You wear a succession of clear adult braces until your teeth have moved to their final position.
Take a look at the following cases, this patient was clearly not happy with the alignment of their lower front teeth.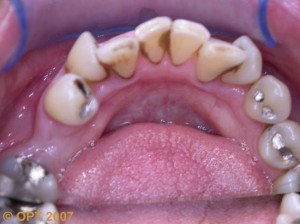 You can see that after treatment with clear adult braces the teeth are now in a nice arch line and any crooked or mis-alignment has been corrected using Clear Braces braces.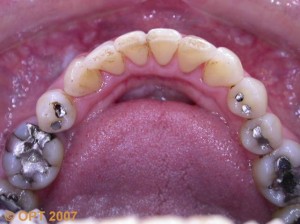 Almost invisible adult braces

The next option for adults who need to wear braces is what is commonly known as almost invisible. In this instance we are talking specifically about the Inman aligner which is a removable appliance. The orthodontic brace has metal springs which are visible towards the back of the mouth, however towards the front of the mouth the part of the brace that is normally seen is actually clear.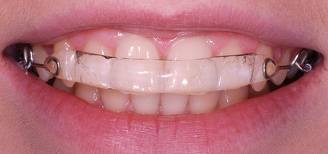 The Inman Aligner adult brace is also a a modern invention utilising a revolutionary concept. This brace works by a combination of pushing and pulling at the same time which makes for rapid movement of the teeth. Treatment can be as little as 12 to 16 weeks, which is generally much faster than any other adult orthodontic system. This adult brace is however only suitable for moving the front teeth into a more aesthetic and generally pleasing position. It cannot be used for more severe crooked or rotated teeth.
Summary of our adult braces review
As you can see there is no right or wrong adult brace, it depends upon the severity of your crooked teeth which need straightening. It also depends upon whether you want invisible braces which may take a little longer to move your teeth, or one of the less invisible options such as the Inman aligner or Six Month Smiles.
Blue Court Dental Centre is a local dentist in Harrow offering adult braces for the local people. We also offer a free orthodontic consultation for people interested in this form of treatment.

Dr Nishan Dixit is the founder and principal dentist of Blue Court Dental. Patients enjoy his relaxed, friendly and gentle approach while experiencing his meticulous attention to detail. He has a special interest in providing smile makeovers, natural-looking white fillings and cosmetic braces, but also provides a range of treatments from preventative and general dental care to complex dental rehabilitation.

Latest posts by Dr Nishan Dixit (see all)