Dr Nishan Dixit is the founder and principal dentist of Blue Court Dental. Patients enjoy his relaxed, friendly and gentle approach while experiencing his meticulous attention to detail. He has a special interest in providing smile makeovers, natural-looking white fillings and cosmetic braces, but also provides a range of treatments from preventative and general dental care to complex dental rehabilitation.

Latest posts by Dr Nishan Dixit (see all)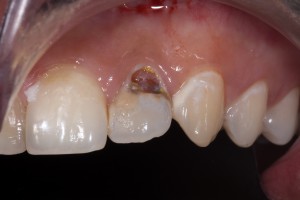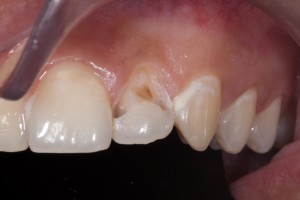 This young gentleman came to us when he started noticing something very odd about his tooth.  It appeared to be changing colour.  It started off as a greyish shadow, and as months went by,  it became darker and more obvious.  A large groove had developed and every time the patient laughed or smiled, he would raise his hands to cover his mouth (picture 1).  For a very sociable young man, his confidence had started to drop.
After a consultation between the patient and Dr Dixit, it was found that the patient had a high sugar diet consisting of fizzy drinks, cakes and biscuits.  The frequency of the sugary foods and the inability to clean affectively caused his tooth to decay close to the gum margin.  To restore this badly decayed tooth,  the decay was cleaned out (picture 2)  and replaced with  a composite tooth coloured filling material (picture 3) .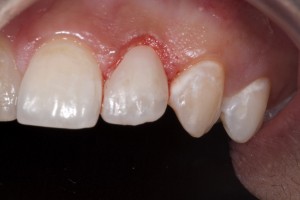 The  filling material blended in with the patients existing tooth colour.  The patient was very pleased with the result.  His confidence had been regained and he no longer covered his mouth when he laughed.  He felt very proud and happy to show off  his natural looking new tooth.