Patients frequently travel from around the Harrow area to visit Blue Court  Dental Centre for their antiwrinkle treatments, as we are asked so frequently about this type of treatment we thought we would write a blog post specifically around the use of Botox.
It is important to note that this is a prescription drug and may or may not be suitable for use on any individual. We offer a range of antiwrinkle treatments and it is only after a full assessment that we will be able to prescribe the best treatment for you. This may or may not include Botox.
Botulinum Toxin (Often referred to as BOTOX)
Here at Blue Court Dental Centre in Harrow, Middx we like to be able to offer our patients extra services that may not be available locally elsewhere. Botox and fillers are one such service we are very excited about providing.
Botulinum Toxin
This is commonly used in the treatment of wrinkles, frown lines and crows feet. Over time these wrinkles will become permanent even when you're not frowning. The Botulinum Toxin treatment involves using a series of targeted injections that relax the muscles that cause the lines and wrinkles. The result is smoother, younger looking skin and you'll be amazed when your wrinkles smooth out after a day or so, restoring your face to a more youthful and relaxed look.
Botulinum Toxin works by blocking the nerve impulses to the muscle that trigger wrinkle causing contractions. It is one of the safest and most widely researched cosmetic products available today. The treatment can cause a little discomfort and redness may also appear on the treated area, but this will disappear after an hour or so.
Results can be seen after as little 48 hours and last for around 4-6 months. There is no recovery period, bruising or swelling after treatment. Botulinum Toxin does not cause any loss of facial expressions. Only the treated areas will be affected.
Botulinum Toxin treatment is relatively quick, an initial consultation takes around 30 minutes, and then the treatment itself takes 15-30 minutes, depending on the area to be treated
Is treatment with Botulinum Toxin Cosmetic painful?
Discomfort is usually minimal and brief. Prior to injection, your physician may choose to numb the area with a cold pack or anaesthetic cream. The entire procedure takes approximately 10 minutes. Most patients are in and out of the physician's office without downtime following treatment.
Side effects associated with the injection include localized pain, infection, inflammation, tenderness, swelling, swelling, redness, and/or bleeding/bruising.
Will I still be able to make facial expressions?
Although the results are visible, a treatment with Botulinum Toxin will not radically change your facial appearance or make you look as if you've "had work done." The muscle activity that causes frown lines between the brows is temporarily reduced, so you can still frown or look surprised without the wrinkles and creases between your brows.
Who should not use Botulinum Toxin?
Do not use Botulinum Toxin if you:
are allergic to any of the ingredients in BOTULINUM TOXIN. See the Medication Guide for a list of ingredients..
had an allergic reaction to any other Botulinum Toxin product such as Myobloc® or Dysport®
have a skin infection at the planned injection site
You should not be treated with Botulinum Toxin if you have:
A disease that affects your muscles and nerves (such as amyotrophic lateral sclerosis [ALS or Lou Gehrig's disease], myasthenia gravis or Lambert-Eaton syndrome). See "What is the most important information I should know about Botulinum Toxin in the Medication Guide
allergies to any Botulinum Toxin product
had any side effect from any Botulinum Toxin product in the past
a breathing problem, such as asthma or emphysema
swallowing problems
bleeding problems
plans to have surgery
had surgery on your face
weakness of your forehead muscles, such as trouble raising your eyebrows
drooping eyelids
any other change in the way your face normally looks
are pregnant or plan to become pregnant. It is not known if Botulinum Toxin can harm your unborn baby.
are breast-feeding or plan to breastfeed. It is not known if Botulinum Toxin passes into breast milk.
What will happen to the moderate to severe frown lines between my brows if I choose not to continue treatments?
If you do not continue treatments, the moderate-to-severe frown lines between your brows will gradually return to the way they looked before treatment.
Do treatment results differ?
Yes, individual results may vary. To get the best results, it's important to go to a practitioner who is experienced in administering Botulinum Toxin.
Common treatment areas with Botox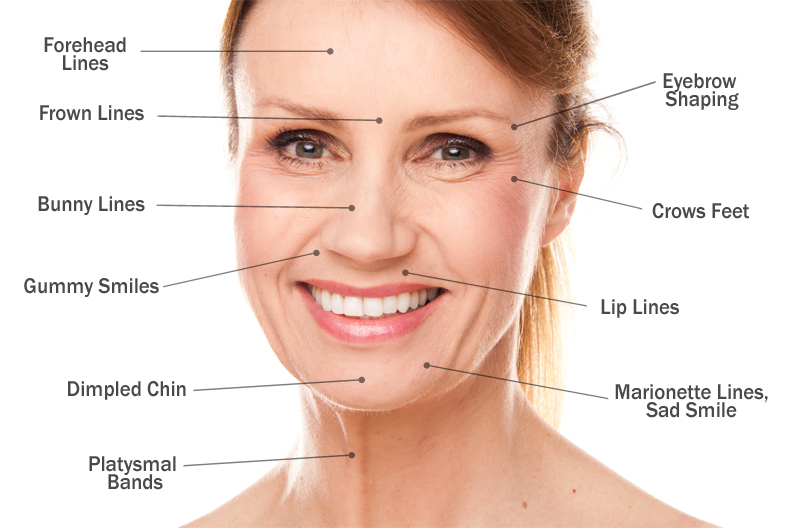 How long does treatment with Botox® last?
The results from treatment with Botox® usually last around three to four months. If you did not continue with regular Botox® treatment, your lines would eventually come back to the level they were at prior to your treatment. As lines become softer and the muscles less active, regular clients find they may need Botox® less frequently than every four months.
Does treatment with Botox® hurt?
This non-surgical treatment is done using very small, fine needles and local anaesthetic cream may be applied to the skin to make your experience as comfortable as possible. After having the treatment you will be able to get straight back to your everyday tasks without having to miss out on work or any social occasion.
Is Botox ® suitable for everyone?
Botox® is very safe and has been used by qualified clinicians for many years. However, we are not able to use Botox® in an area where there is a skin infection present or in individuals with known allergies to any of the ingredients in the wrinkle relaxing injection. Patients with neuromuscular disorders such as Myasthenia gravis or Bell's palsy  may be at increased risk of serious side effects and should avoid Botox treatments. We would not advise Botox® treatment to those who are pregnant or breast feeding.
What are the injections like?
We thought probably the easiest way to let you know what the injections are like is to show you! Here's a video which you may find helpful:
Further information about Botox can be found here